Galería de las Colecciones Reales
Gallery of Royal Collections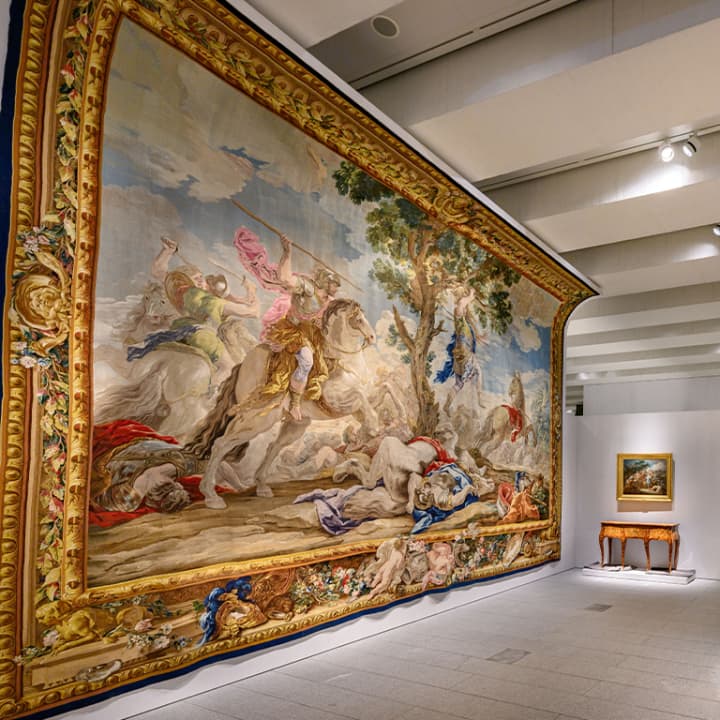 Visiting Times
From Monday to Saturday: 10:00 - 20:00. Sundays and holidays: 10:00 - 19:00
Access up to 45 minutes before closing time.
Prices and Ticket Types
Self-Guided Visit
Standard Admission 14 €
Visitors who do not qualify for the Reduced or Free Admission.
Reduced Admission 7 €
Citizens between 5 and 16 years old. Proof of identity card or passport from 14 to 16 years of age.
Over 65s.
Students up to the age of 25 with an up-to-date national or international student card.
Free Admission 0 €
Children under 5 years old
18 May, International Museum Day (except closing days).
12 October, Spanish National Day, regardless of nationality.
Members of large families in accordance with articles 2 and 3 of Law 40/2003, of 18 November, on the Protection of Large Families and Royal Decree 1621/2005, of 30 December, which implements the aforementioned law.
Members of ICOM (International Council of Museums) and the International Council on Monuments and Sites (ICOMOS).
Official Tourist Guides with an Official Tourist Guide card, carrying out their professional activity, or when they apply for a ticket in order to prepare their work.
Active teaching staff with a teaching card.
Disabled persons holding an accreditation.
People in a legal situation of unemployment that accredit this circumstance, by means of a Jobseeker's Card or equivalent document, issued by the competent body.
From Monday to Thursday from 6 to 8 p.m., free tickets for European Union citizens, residents and work permit holders in this area and Latin American citizens, with proof of nationality (national identity card, passport or driving licence) or residence or work permit. The offer of free admission is limited to Self-Guided Visit. Guided groups will not be allowed to visit during these hours. These tickets can only be purchased at the ticket office.
Groups
Tourist Groups
Purchase of tickets for Groups of Official Tourist Guides. The rate to be applied will be the one that corresponds to the condition of each member of the group or Agency Rate.
The use of group guided system is compulsory for group guided tours except for children under 8 years old.
Prices:
Standard Admission 10€
Reduced Admission 7€
Free Admission 0€
Cutural Groups
Tickets for cultural associations, institutions, foundations and post-graduate schools of fine arts.
Educational establishments, if they arrange the visit through a travel agency, are not entitled to a reduction or free admission, except for pupils under 5 years of age.
Prices:
Standard Admission 14€
Reduced Admission 7€
Free Admission 0€
School Groups
School Group with free 10 € for the booking, as a management fee.
Prices:
Reduced Admission 7€
Free Admission 0€
Agencies
Purchase of tickets for groups managed by Travel Agencies 12 €
Agencies - Combined visit to the Royal Palace and Royal Collections Gallery €20
Prices:
Interactive Audio Guides
Interactive audio guides will be available onsite.
How to get there
Address: Plaza de Oriente. MADRID
Bus:

Lines 3, 25, 39 and 148
Underground:

Lines 5 and 2 (Opera station)
Commuter train:

Príncipe Pío Station
Accessibility
Groups must show up at the Cuesta de la Vega access, 15 minutes before the visit.
Accessibility to the monument
There is access for persons with disability and manual wheel chairs are available.
In summer, given the temperature in the rooms, whose objective is the correct conservation of the exposed pieces, a light coat is recommended.
---
How to get there?
Galería de las Colecciones Reales
Calle de Bailén, s/n, Madrid, 28013
Madrid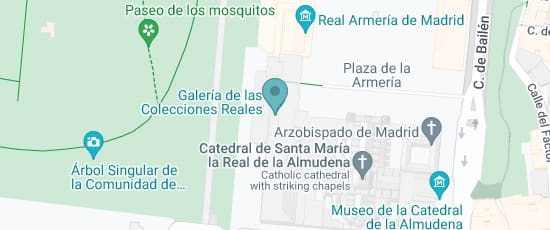 ---
Any questions?
Need help? Contact Customer Service via this link.
---