Palacio Real de La Almudaina
Royal Palace of La Almudaina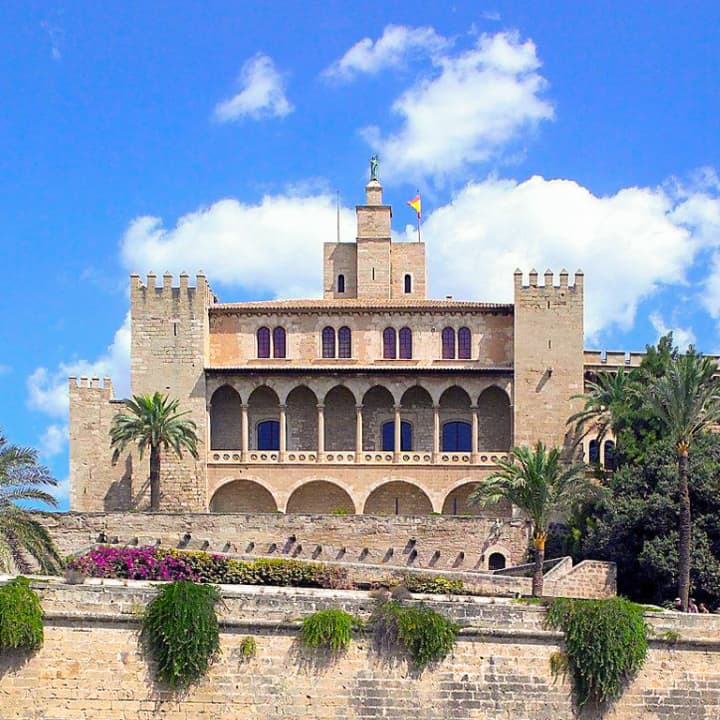 Visiting Times
Winter hours (October to March): From Tuesday to Sunday: 10:00 - 18:00
Summer hours (April to September): From Tuesday to Sunday: 10:00 - 19:00
Box office and admission to the Palace close one hour earlier.
Weekly closing: Mondays
Dates closed in 2023
January 1: closed entire day
January 6: closed entire day
January 20: closed entire day
December 24: closed entire day
December 26: closed entire day
December 31: closed entire day
In addition to the planned closings, there may be additional closings motivated by the holding of official acts. You can consult the list of closures for official acts
Special Openings 2023
Duration of the visit
Visit without guide: 40 minutes.
Prices and Ticket Types
Individual Admission
Basic Admission 7 €
Visitors that cannot benefit from the reduced or free admission.
Reduced Admission 4 €
Citizens between 5 and 16 years of age. Accreditation by means of identification card or passport from 14 to 16 years of age.
Persons over 65 years of age.
Accredited students up to 25 years of age with updated national or international student's card.
Free Admission 0 €
Children under 5 years of age.
18 May, International Museum Day. 12 October, National Holiday of Spain, without distinction of nationality. (Except closing days)
Large families with accreditation by the Official Family Book or equivalent of the EU and Latin American countries holders of residency or work permits of those nationalities.
Members of the ICOM (International Museum Council), by means of accrediting card of that organisation.
Official Tourist Guides with Official Tourist Guide card.
Professors with teaching staff card.
Persons with disability with accreditation.
The companions of people with disabilities will have free admission, as long as this is essential for them to be able to make their visit and this circumstance is recorded on the card or disability resolution issued for that purpose.
Persons in legal situation of unemployment that accredit this circumstance by means of Employment Demand Card or equivalent document issued by the competent organisation.
Wednesdays and Sunday from 15:00 to 19:00 h. (Winter 18:00h), free admission for citizens of the European Union, residents and holders of work permit in that territory and Latin American citizens, following accreditation of nationality (national identification card, passport or driver's licence) or residency or work permit. The free offer is limited to the tour without guide. Only in ticket office
Group Visit
Tourist Groups
Purchase of tickets for groups guided by official tourist guides. The applicable rate will be determined according to the status of each group member or the agency rate.
Ticket types:
Cultural Groups
Purchase of tickets for cultural associations, institutions, foundations, and postgraduate schools of fine arts.
Ticket types:
Educational Groups
Purchase of tickets for 2nd cycle of infant school/kindergarten, primary, secondary, high school, vocational training, university students, workshop schools, employment workshops, and trade schools.
Ticket types:
Agencies
Purchase of tickets for groups managed by travel agencies.
Ticket types:
Interactive Audio Guides
Interactive audio guides will be available onsite.
How to get there
Address: Palau Reial s/n. 07001 Palma de Mallorca – Balearic Islands
Accessibility
Royal Palace: Single box office (principal façade)

There is access for persons with disabilities.
---
How to get there?
Palacio Real de La Almudaina
Carrer del Palau Reial, s/n, Palma, 07001
Mallorca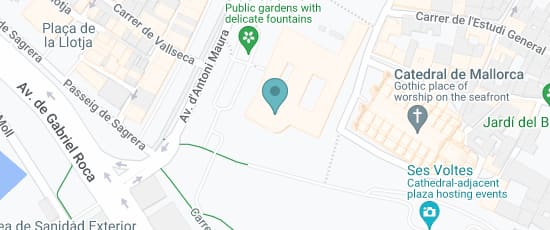 ---
Any questions?
Need help? Contact Customer Service via this link.
---